A couple of weeks ago, we had a record rain event in Atlanta: nearly 6" in less than 36 hours. And two weeks later, we're headed straight for a hot, dry summer. But in a part of the world that receives over 50" of rainfall a year, why is drought even a thing? According to NASA, between 50-75% of residential water consumption in the US is for watering lawns, which equals more water than used by all combined cropland in the US! Yet, conventional gardening and building processes treat summertime rainfall as a nuisance, diverting it away only to bring it back via irrigation. There are more sustainable ways to approach this garden water gap, especially during our torrential summer downpours, that come with less frequency and more intensity, which can positively impact climate change.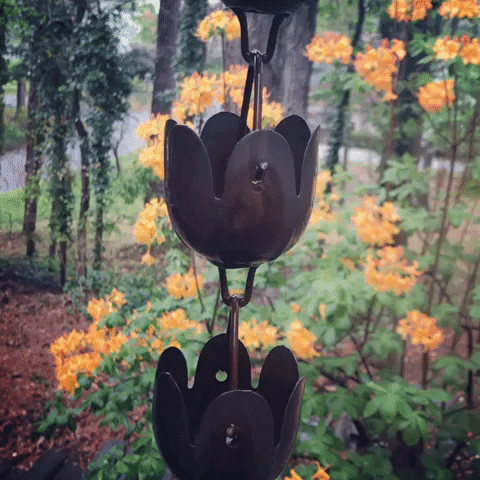 How you manage rainfall year-round will either set your garden up for success come summer or have you spending lots of money on costly city irrigation. Here are 3 simple things you can do to harness the water when it rains and spread its bounty over the seasons.
Choose the appropriate plants: Choosing well-adapted plants to your garden's conditions set them up to thrive without costly irrigation. This also includes planting smaller trees and shrubs, so they need less water to establish. For example, many native plants, such as muhly grass or echinacea, thrive in soils without amendments or fertilizers and have evolved for the natural amount of rainfall in their native range, meaning fewer inputs.
Build swales and rain gardens: Swales are basins with a berm on the downhill side that allow the water to slow down and distribute, and rain gardens are basins in the ground that receive water and allow it to infiltrate into the soil. Bonus! You can plant rain gardens with lots of beautiful and hardy plants that can take both flood and drought, like little bluestem grass, marsh hibiscus, Liatris, and many others. The deep roots help more water sink into the ground to replenish our groundwater and aquifers.
"Train" your soil to retain moisture: Keeping the soil covered with low-growing groundcovers like creeping thyme or mazus helps keep the soil from quickly dehydrating in the summer heat and also helps suppress weeds. When establishing plants, watering deeply and less frequently at the correct times encourages deeper root systems that can access water during drought, making them more resilient.
filed in: